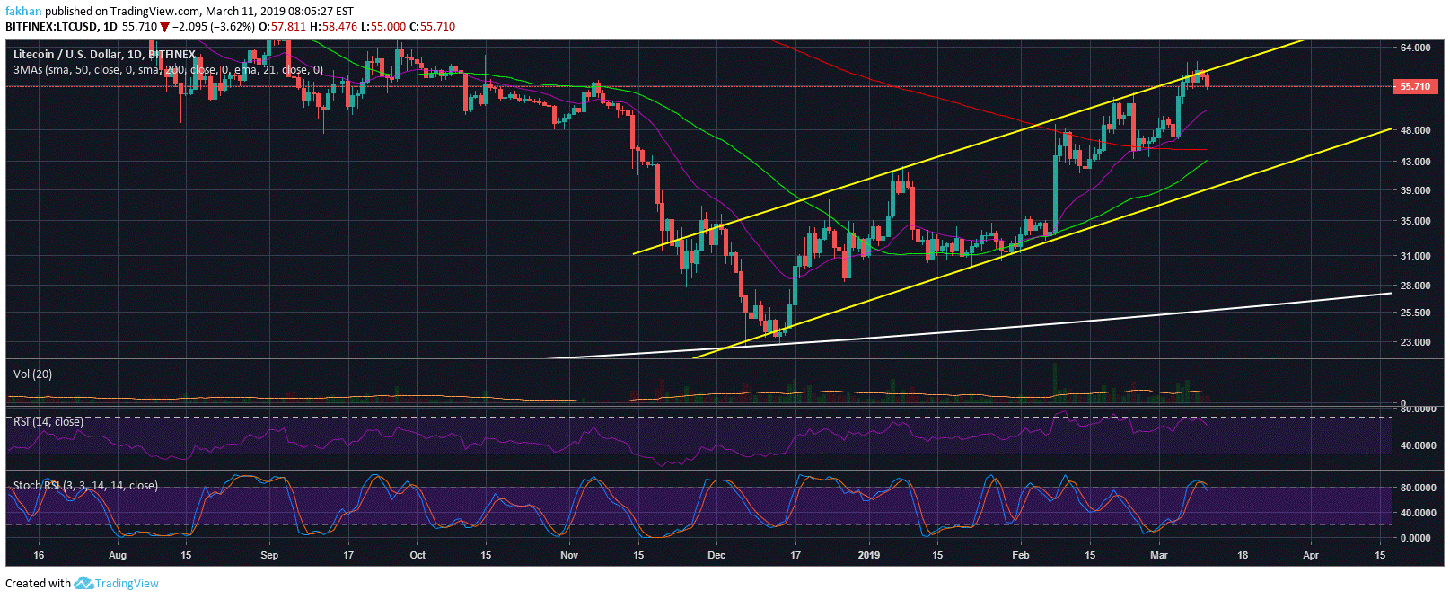 Litecoin (LTC) has gone through a lot in the past few days. The price has struggled to climb past the ascending channel but it has failed. It was expected that LTC/USD would face a strong rejection at the trend line resistance because it had rallied quite aggressively the days leading to that. That being said, the possibility of a golden cross still remains there and the price might be able to shoot up past the ascending channel just yet. However, the real question that needs to be asked is whether all of this interest in Litecoin (LTC) is because of the upcoming halvening or is it because people believe Litecoin (LTC) is such a wonderful cryptocurrency? Litecoin (LTC)'s trading history tells us that the cryptocurrency fell from $360 and is now trading around $55.
While Litecoin (LTC) was falling from $360, we saw no real interest in accumulation for this cryptocurrency. It just kept on declining and debates regarding its use case were on the rise. A lot of people started to question the use of Litecoin (LTC) if Bitcoin (BTC) can do what it can with Lightning Network. Now, Lightning Network is not all there is. In future it might be something else that makes Bitcoin (BTC) more spendable and a lot faster and cheaper. Litecoin (LTC)'s only use case at the moment is that it is faster and cheaper. Now, I am not a Bitcoin (BTC) maximalist even if I sound like one, but if a cryptocurrency comes to challenge Bitcoin (BTC), it better have something to offer that Bitcoin (BTC) can't eventually. Ethereum (ETH) and Ripple (XRP) both challenge Bitcoin (BTC) in similar ways to Litecoin (LTC) but both of them have a lot more to offer apart from their low cost and speedy transactions.
Chart for LTC/BTC (1W)
Litecoin (LTC) does not seem to be affected by any debates around its use case yet. This is because the halvening FOMO is at its peak. However, once the whales are done with it, they are going to pave way the way for all sorts of use case debates to start surfacing again. In the end, it is the retail trader with little to no experience that suffers. Most media outlets or financial news channels do not like to point to these things because they have no sympathy for retail traders. They call them suckers and they think they deserve what is coming to them because they are dumb enough to fall for it.
Fortunately for them, we at Crypto Daily take pride in making information for the classes available to the masses for free because we want to make this a level playing field. Nobody deserves to be taken advantage of just because they do not know the game. Coming back to Litecoin (LTC), the interest that we see now can in no way be considered genuine interest. This is just the halvening FOMO that most traders want to capitalize on. Once it is over, Litecoin (LTC) is going to nosedive once again and we will see questions regarding its use case begin to surface again.