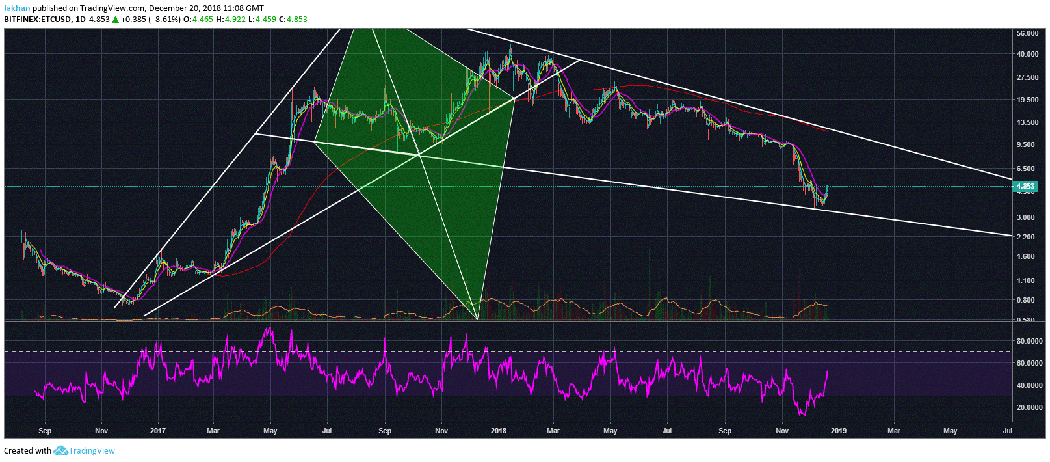 Ethereum Classic (ETC) has suddenly seen a major spike in development activity after the recent regime change. Unfortunate as it is to see ETC Dev leave the project, for long term investors in Ethereum Classic (ETC) this may actually be a blessing in disguise. Under the leadership of ETC Labs, we have seen a plethora of new Dapps launch on the original Ethereum blockchain. It appears as if the teams behind Ethereum Classic (ETC) have finally realized that investors care more about shiny new Dapps than building a stable, safe and secure blockchain. So, when the teams did achieve their foremost objective of building a state of the art blockchain, they decided to go after what matters to the average investor.
It is unfortunate that they had to push out ETC Dev to pursue their objectives but chances are Igor Artamonov and his team would not have allowed such an aggressive program because they were more concerned about safety and security. Well, some in the community argue that perhaps they were over concerned about such issues, which is why ETC/USD 'lagged behind' while Ethereum (ETH) attracted a ton of Dapps and became the unopposed king of altcoins. Despite being a far superior blockchain compared to Ethereum (ETH) in terms of immutability, decentralization and scalability, Ethereum Classic (ETC) remained in the dark while Ethereum (ETH) enjoyed the limelight. Perhaps Igor Artamonov and his team wanted to dot their I's and cross their T's before pursuing any aggressive plans, but maybe some in the community did not feel too good about being left behind.
Chart for ETC/BTC (1D)
The last few months showed us that there is a lot of interest around Ethereum Classic (ETC) and its commitment to Internet of Things (IOT). Powerful companies like Digital Currency Group, Digital Finance Group and HCM-Foxconn Technology Group wanted to capitalize on that. However, Igor Artamonov announced last month that the scheduled IOT Compatibility by November 30 had already been rescheduled. This annoyed a lot of people in the community who were not only disappointed with this announcement but they were even more disappointed to find out that this plan had already been rescheduled around the beginning of the year but they are hearing about it now. Soon afterwards, we saw ETC Dev close shop and the rest is history.

Soon as ETC Dev got out of the picture, we saw an aggressive program by ETC Labs to get more Dapps onboard. I cannot help but mention that this reminds me of the early days of Ripple Labs. If you think about it from a moral or ideological standpoint, it means giving more power to a certain group to control the future direction of development for Ethereum Classic (ETC). This may involve compromises along the way and values like decentralization and fair governance are going to be affected. However, if you look at this from an investment standpoint, it means a small powerful group gets to make most of the decisions which means less friction and more progress. Considering the way things are headed under the leadership of ETC Labs, I for one would not be surprised to see Ethereum Classic (ETC) as the fourth or fifth largest coin by market cap in the near future.